ALWAYS COMPOSING WITH MATERIALS AND COLORS
When we consider the "materials" used in a project, we must look beyond plants, wood, metal, stone or glass.
Perspective, light, water, fire and even music are all materials to be worked with.
Today, primarily in Asia but elsewhere as well, artisans are doing a splendid job producing an outstanding variety of furniture, fabrics and objects. The same holds true for art, with a wide range of quality offers.
ALL THE STAGES OF FABRIC CREATION MAKE US LOVE THEM EVEN MORE
The design and materials now available for crafting have reached a very high level in the early 21st century, and it is generally pretty easy to go straight to the source.
I am not a creator of objects or furniture; I cannot do better than the craftspeople and artists. It would make no economic sense. I would rather go in search of and find the elements that reflect the universe I wish to create. With these artisans, who have mastered their creations, I am be able to work on a specific finishing, custom dimensions or a particular shape. This is the best way to breathe life into a universe.
The objects thus become unique and they are a perfect fit into a cohesive whole.
CERAMIC AND LAVA TONE-ON-TONE
There is a fundamental need to achieve natural chromatic harmony, that begins with a shade and gradations from that base. Then we add a strong note to punctuate and enhance the whole. This colour note may be a work of art, an unusual object, a piece of furniture or even a tree. This also provides the benefit of allowing the space to evolve without having to change everything, while maintaining the basic colour palette and changing only the colour highlight, whether a table, a bed of flowers or a work of art.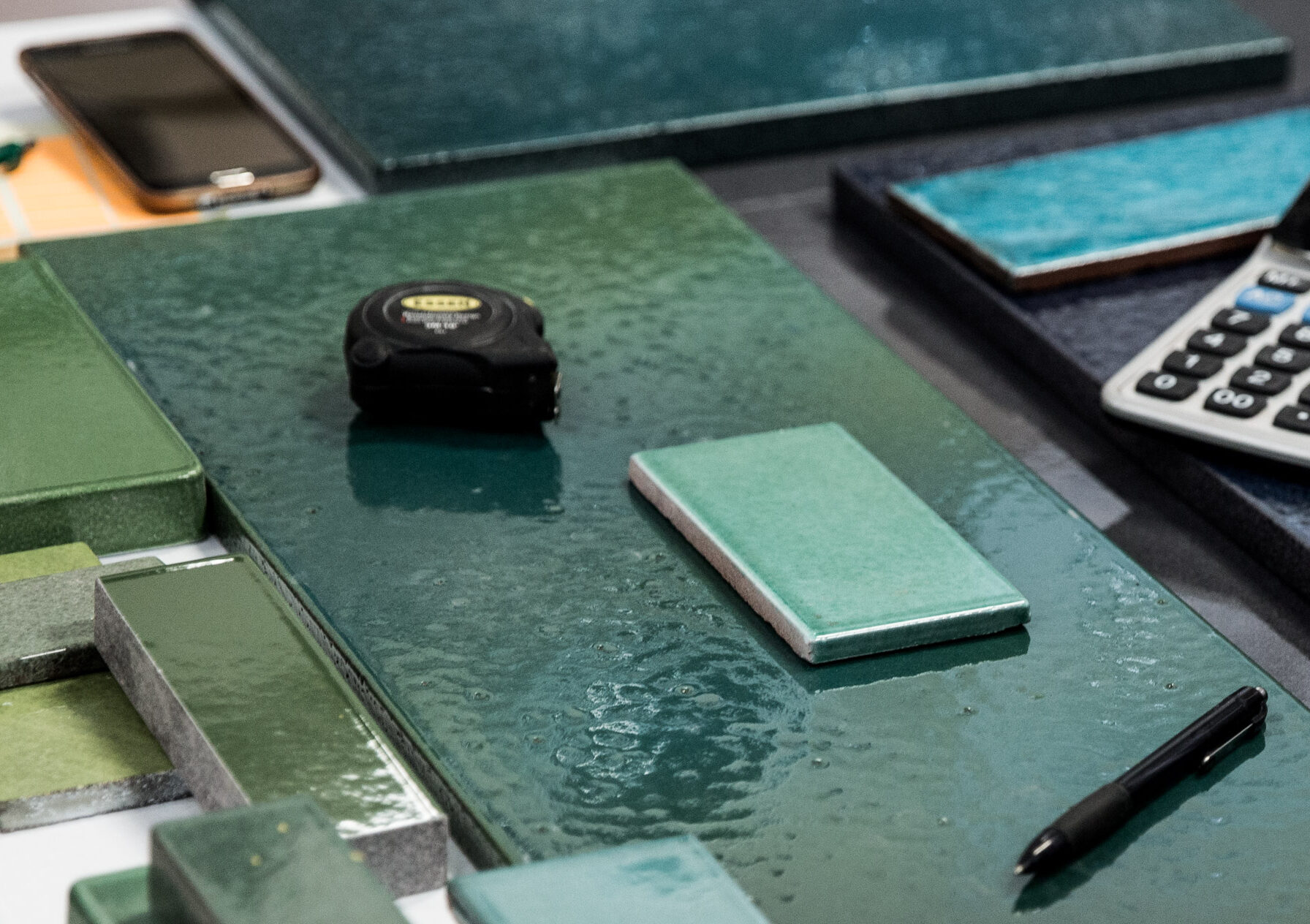 PLANTS IN ALL SHAPES AND FORMS
I especially enjoy working with trees, whether already on site or having one or more brought on site and planted.
A tree always has a history and symbolism. When chosen well, properly placed and highlighted, it can easily become the soul or icon of a site. It will elicit reactions and generate discussions, more easily than a gardenia!
YES TO PLAYING WITH FIRE…AND WATER
Creating a landscape extends far beyond devising an inaccessible ornament sequestered behind a large pane of glass. In that case, it is better to opt for large paintings and high-quality photographic prints.
If I am asked to produce pure ornamentation, I will still create the illusion of an inhabited space, and if I succeed, it ultimately will be inhabited!
My greatest joy is to create an outdoor space for someone who claimed not to like being outdoors, who just wanted a beautiful view… and to see that person take ownership of that space, be drawn towards it.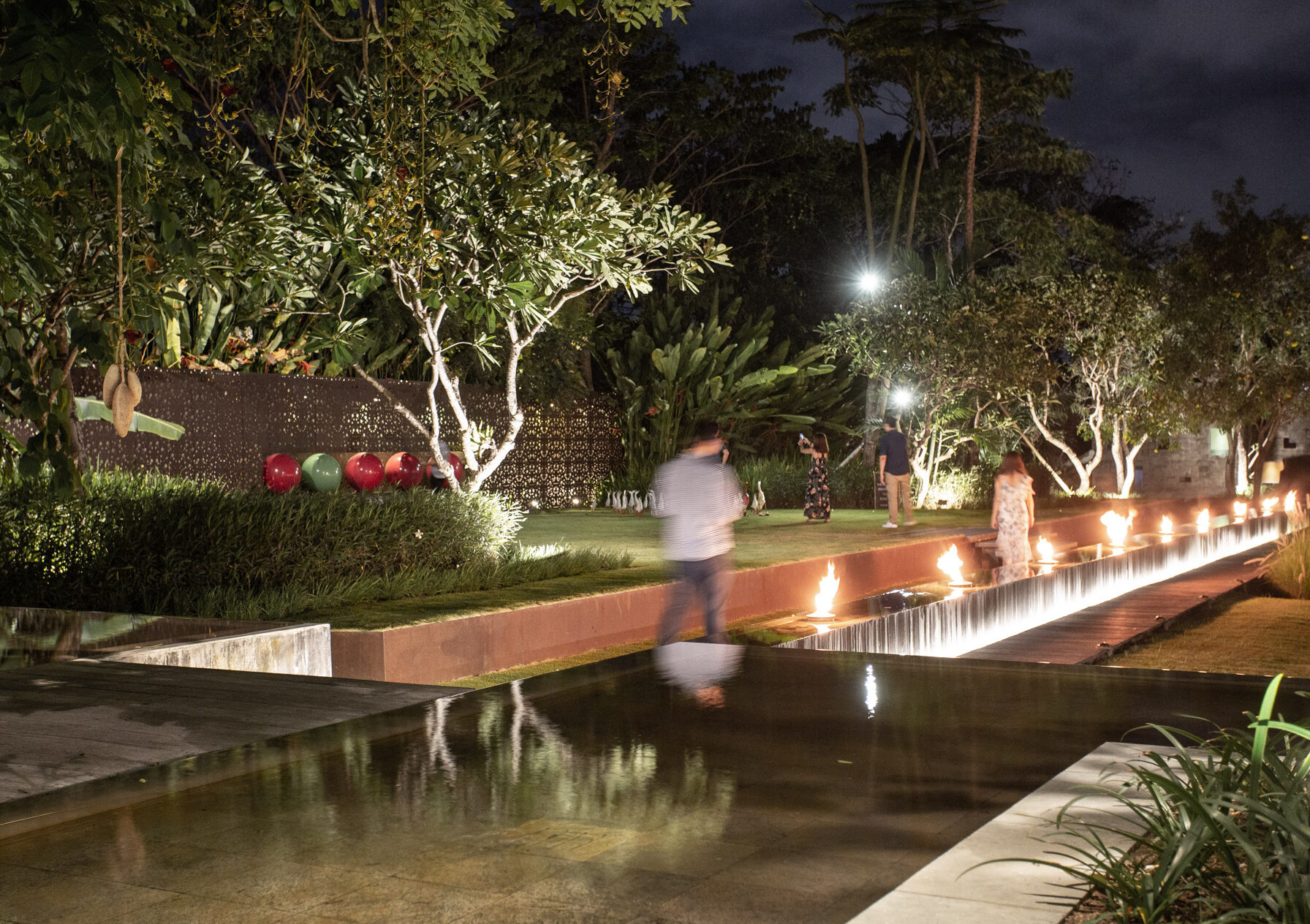 WATER IS ESSENTIAL TO LIFE…AND LIVING SPACES
Walking out onto a patio, into a garden, around a swimming pool, should not make you feel at the mercy of the elements, of the landscape, of the "outdoors."
Bringing the outdoors and indoors together in a single environment, even if the two spaces are distinct and separate, encourages people to occupy the outdoors.
Materials, especially water, breathe life into the projects, imbuing them with their character and personality, awakening the senses and mind to the life possible in each space. The technical aspect required by the interaction between the various materials forms the foundation of any successful work, yet it must not be apparent.
BRONZE FASCINATION
Suppliers are selected for their technical skills and evaluated through their existing productions.
Perfect knowledge and understanding of the material is necessary, as we will most likely ask them to adapt their work to our specific requests in order to follow our quality and style guidelines, in terms of colours, smoothness, texture, shapes and cuts needed to confer coherence to the whole project.
The global view or even the vision given by the Art Director requires for each object to fit in.
The expertise of an experienced Art Director is key to select craftsmen and women able to produce such items.
BRINGING YIN TO THE YANG WITH CURVED SHAPES
My preferred materials are stone, wood and metal. I can also work with synthetic materials, but only if they provide a specific sensory experience, if they are pleasing to the touch. Since a project will exist over time, the material must age gracefully outdoors in contact with the local climate, which is starting to be the case for certain new materials and no longer just stone, metal, glass and wood.
The final condition is rather specific to me: since my signature is the use of a few oversized and emblematic elements—giant pots, for example—I like the relative lightness of certain composites that let me achieve the effect I am seeking while facilitating the transport and placement of these elements.
POTS AS A SIZEABLE SIGNATURE
We use plants to create a garden's structure and layout, the way an architect would use a wall in a house to separate different zones. Plants provide a sense of protection and also give us pleasure through colours and scents. They weave together all the components of the site, pond or pool, decorative objects, furniture or fireplace.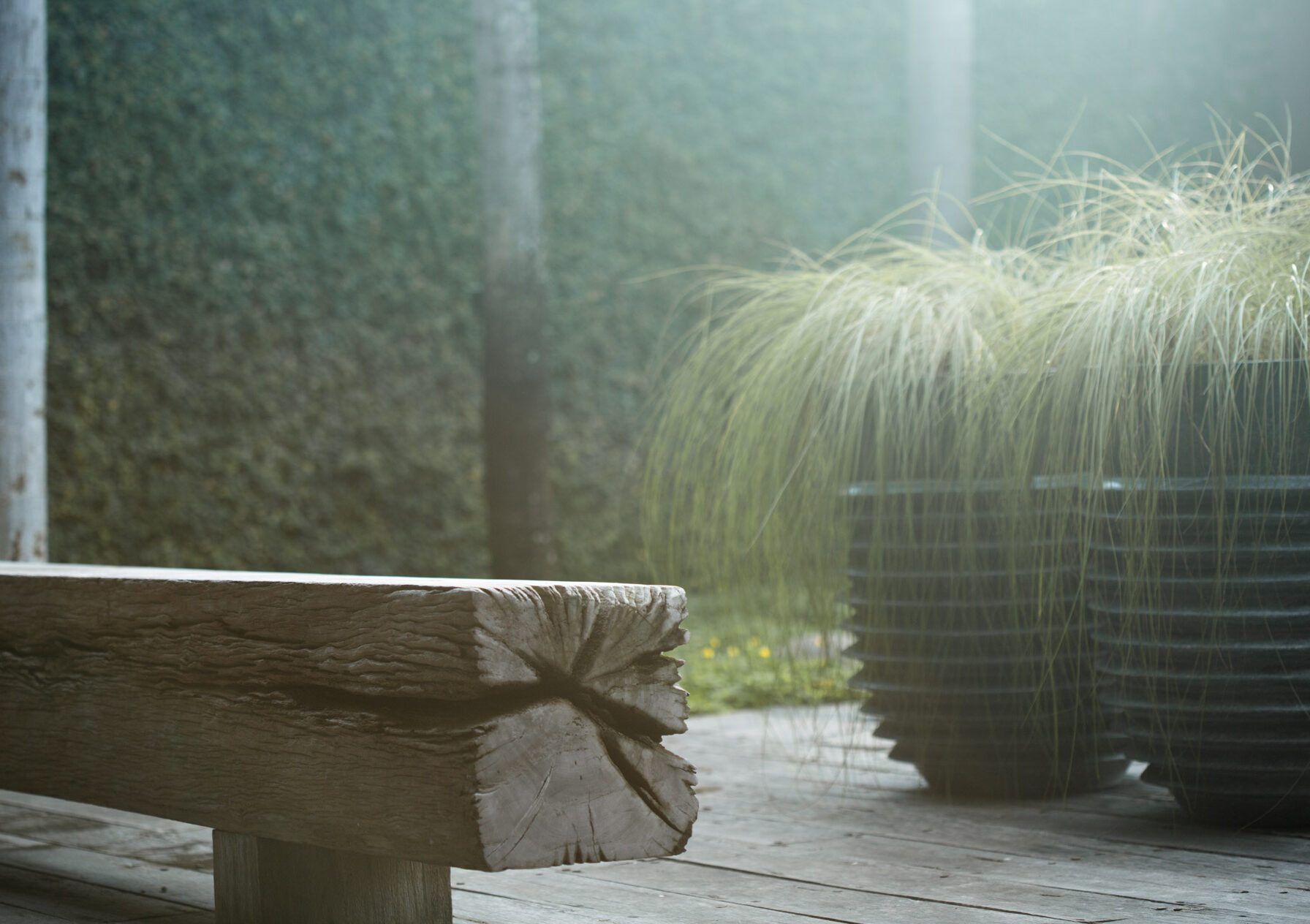 WHERE THERE IS ART THERE IS LIFE
In my universe—and I believe, in any universe—the indoors and outdoors must form a whole, each being consistent with the other. This must remain true regardless of the style chosen. The style of an outdoor project is inextricably linked to the interior style.
There obviously are styles I feel more comfortable with than others.
My sensitivity, my background, my technique rule out certain styles such as Rococo, Baroque, vintage, wild jungle environments or bohemian ambiances.
Some chefs prefer to distill foods by transforming them very little, while others engage in molecular cuisine, and others yet create dishes with a sauce made of 20 ingredients.
Should we follow the culinary metaphor, then my style would be fusion.