EXPLORING NURSERIES
All year long we visit as many nurseries as possible in a variety of locations.
The goal is to gain knowledge and understanding of the vegetal offer available to us for our projects. We spot trees that could be of interest, remarkable trees that would confer character to outdoor locations. We need to see in person how the foliage is structured, how it evolves, how it behaves in different seasons, in all the weather conditions, what kind of maintenance it requires, how much and how often it will need trimming, pruning… Then when we work on new projects specific trees or species come to mind and as we already know their characteristics, we can include them straight away in the early stages of the project. Getting to know the trees is a fantastic part of the job and it's very different than working with plants on catalogue with no firsthand experience of the species or specimens.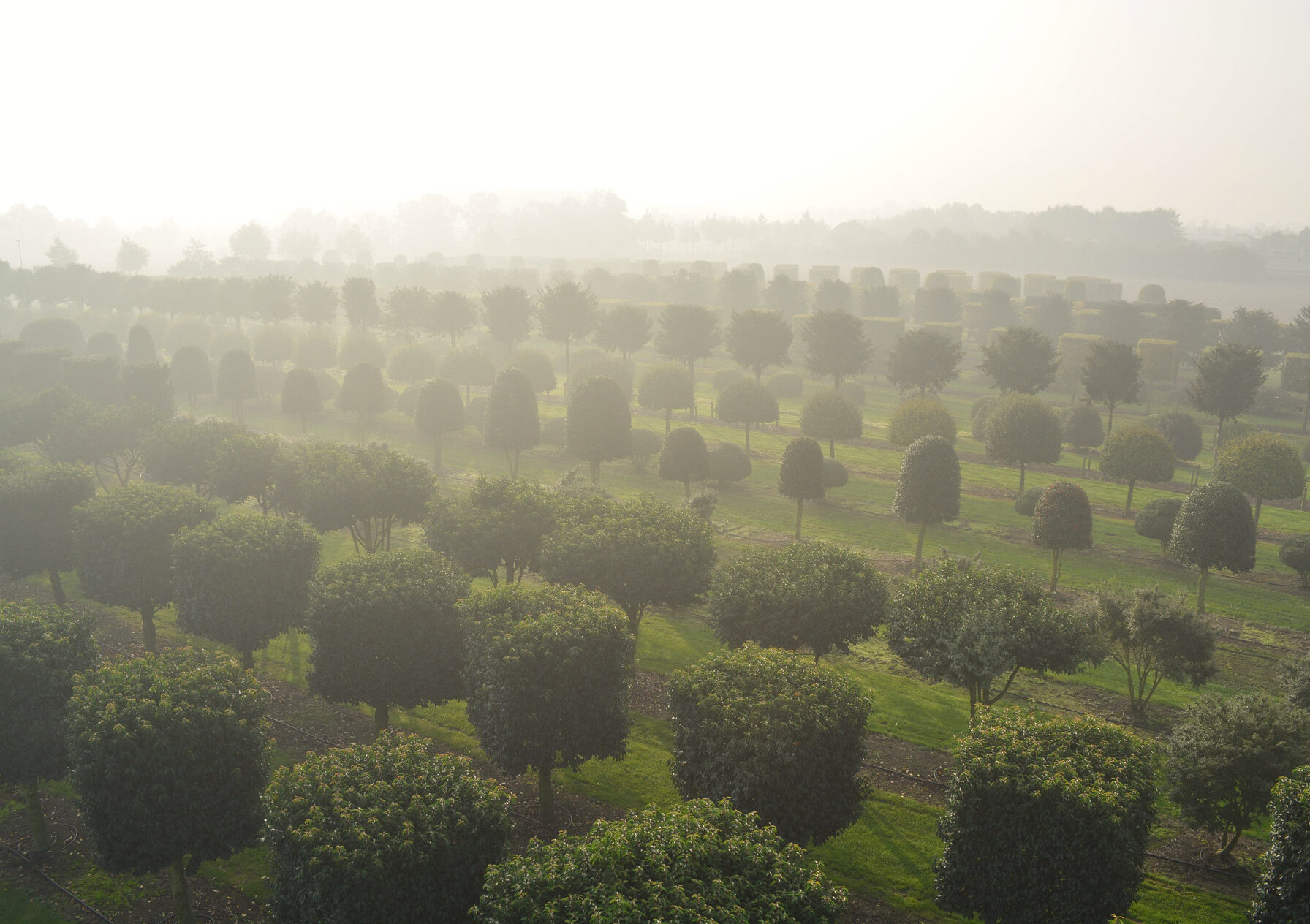 WORKING HAND IN HAND WITH SUPPLIERS
We are lucky to have access to many suppliers who have mastered their craft. We are in a real relationship with them, where of course we discuss ongoing projects, but it goes further. We discuss new trends, new techniques and market evolution, they have great understanding of their field and they have styles of their own too. Added to our vision of the project their unique skill sets and knowledge allow us to always stay on the cutting edge. It's of course fascinating to work with passionate people, they bring invaluable substance, life stories and depth to our projects.
VISITING LOCATIONS
I need to be on-site several times. The first time, before the project has even started, is a very important visit that allows me to get a feeling of the actual space, to come up with volumes, circulations. Then, at several points during the case study I need to go back on site to validate my ideas, to make sure that they will work. I project what I have created in the actual location, and I imagine being the client or a guest. What is the first thing that I will see, what will attract my eyes next, where will I immediately want to go, what will the path smell like in the rain or at noon, at dusk, where will the light be, which areas will be shaded, bright, which colors will be prevailing? These visits are essential as they allow me to confront my visions to the reality and to re-assess my work along the way.
COLLABORATING WITH CHEFS
The finality of Art Direction is to create true artful living spaces and to consider all the aspects of a living experience. Food is an important part of many human interactions and when we work for restaurants it is paramount that the Art Direction includes the menu, the tableware, dishware and the dishes themselves too. To that end we source or design specific items and work with the chefs to ensure that the dinners experience will be maximized and enhanced by the general coherence of the project. Materials, colors, shapes and patterns have to be in tune.
MEETING WITH ALL THE TEAMS
The main purpose of these meetings is to adjust and coordinate on-site all the interconnected technical aspects of the project. Aesthetic considerations have to be taken into account while discussing technical points as our work requires to be executed according to high quality standard but also to be maintained in precise ways to ensure the consistency of the outcome in all seasons, weather and of course in time. This requires planning ahead, and during the construction phase too. These meetings also provide crucial reality checks for our drawings and envisioned featured elements. Are our planned volumes appropriate or do they need adjusting because of structural or reglementary reasons? These meetings are opportunities for us to adjust our plans to the many aspects of the site reality.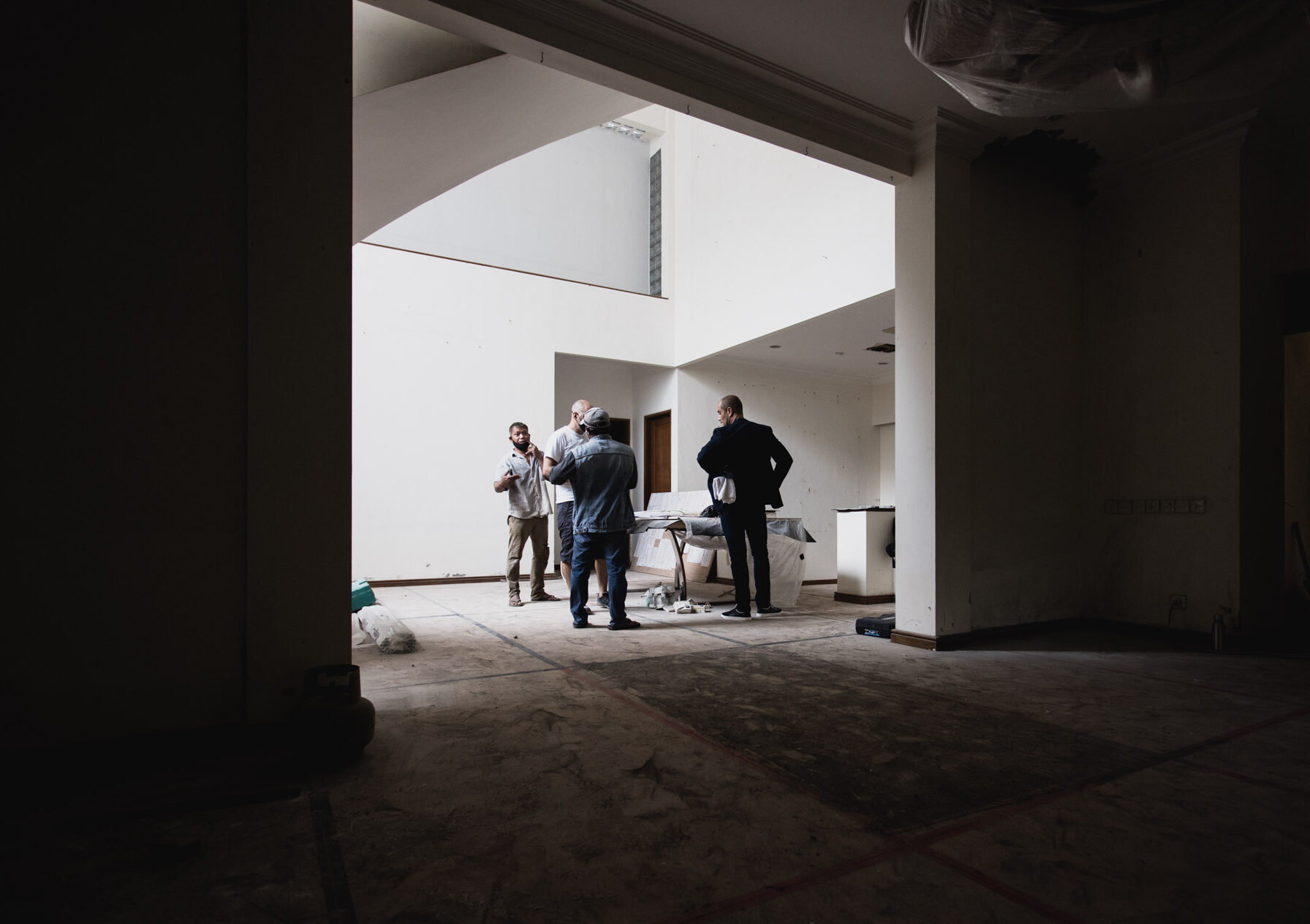 SCALING
For large scale projects such as shopping malls or hotels there are many sizes and scales to be considered along with the influences of these sizes and scales on volumes, circulations, features and design elements. Some elements need to be scaled up to have the required effect due to the site specification. We need to build mock-ups, large samples or models of site in for being able to appraise the impact, visual and functional effects of our studies and designs.
BRAINSTORMING AND WORKSHOPS
Throughout the different phases of our projects, we organize workshops with all the teams involved, members from our team, from the clients' teams and third parties' teams too. These work sessions spanning over several days are great opportunities to exchange, address practical issues and to make informed decisions face to face.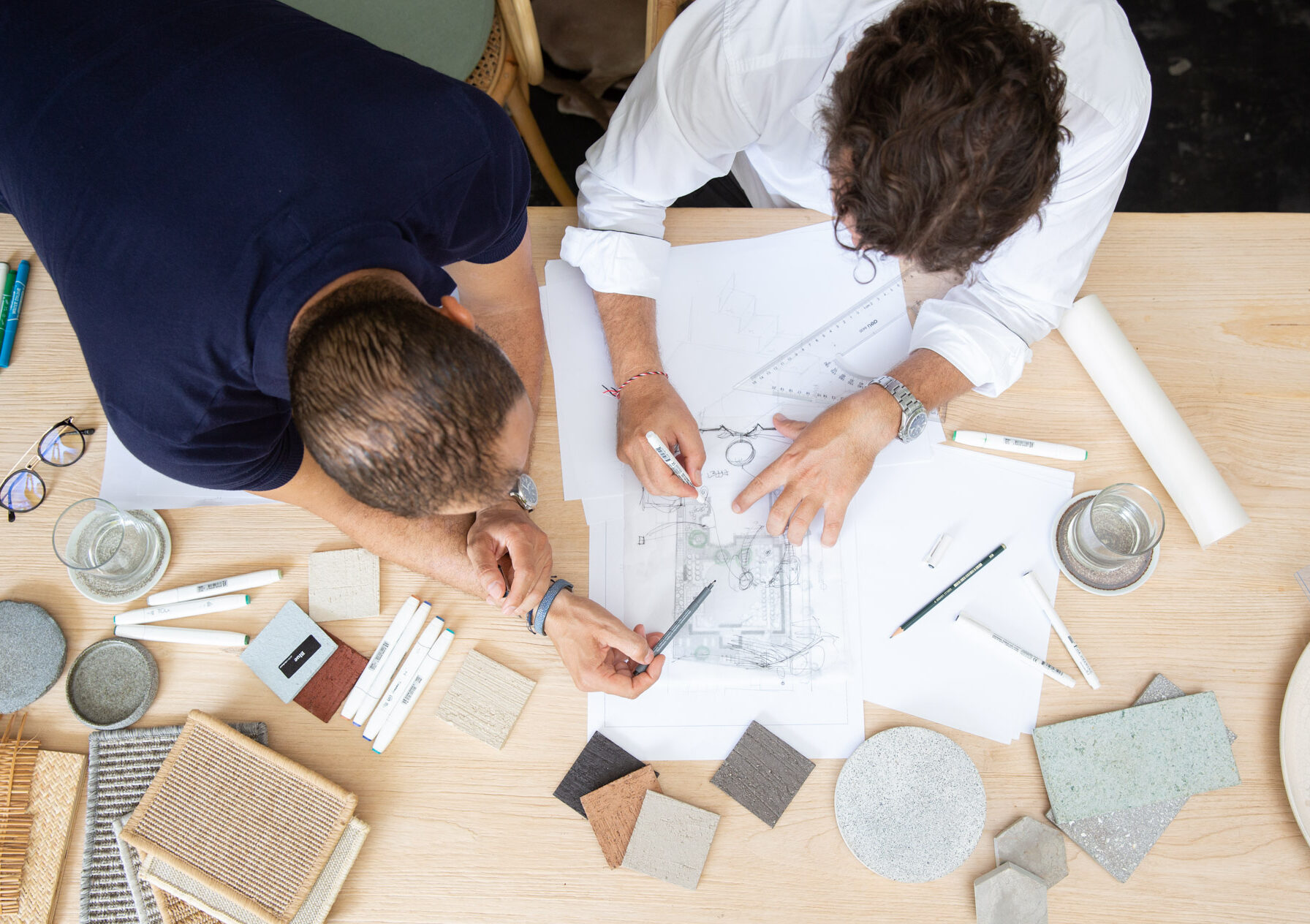 DISCOVERING NEW MATERIALS AND TECHNIQUES
We take every opportunity we have to discover new materials and techniques and to see how we can include them in our projects design. Shown here, for example, is a fabulous way to turn lava into incredibly smooth surfaces. In order to incorporate new materials, we need to fully understand all the steps of the process to know how they will behave, react, age, what maintenance is needed, what conditions are optimal, what different types of finishing are available. We value very much these discoveries enriching the range of material we can work with.
VISITING ART STUDIOS
Art plays a major role in our projects. We are always eager to discover artists, new or recognized, whose creations will complete the universes we create. We visit galleries and studios to gain the best possible understanding of the local art scene. More often than not, we commission art for specific parts of our projects and in order to choose the most appropriate artist we need to know her or his evolution, previous work, universe, sensitivity…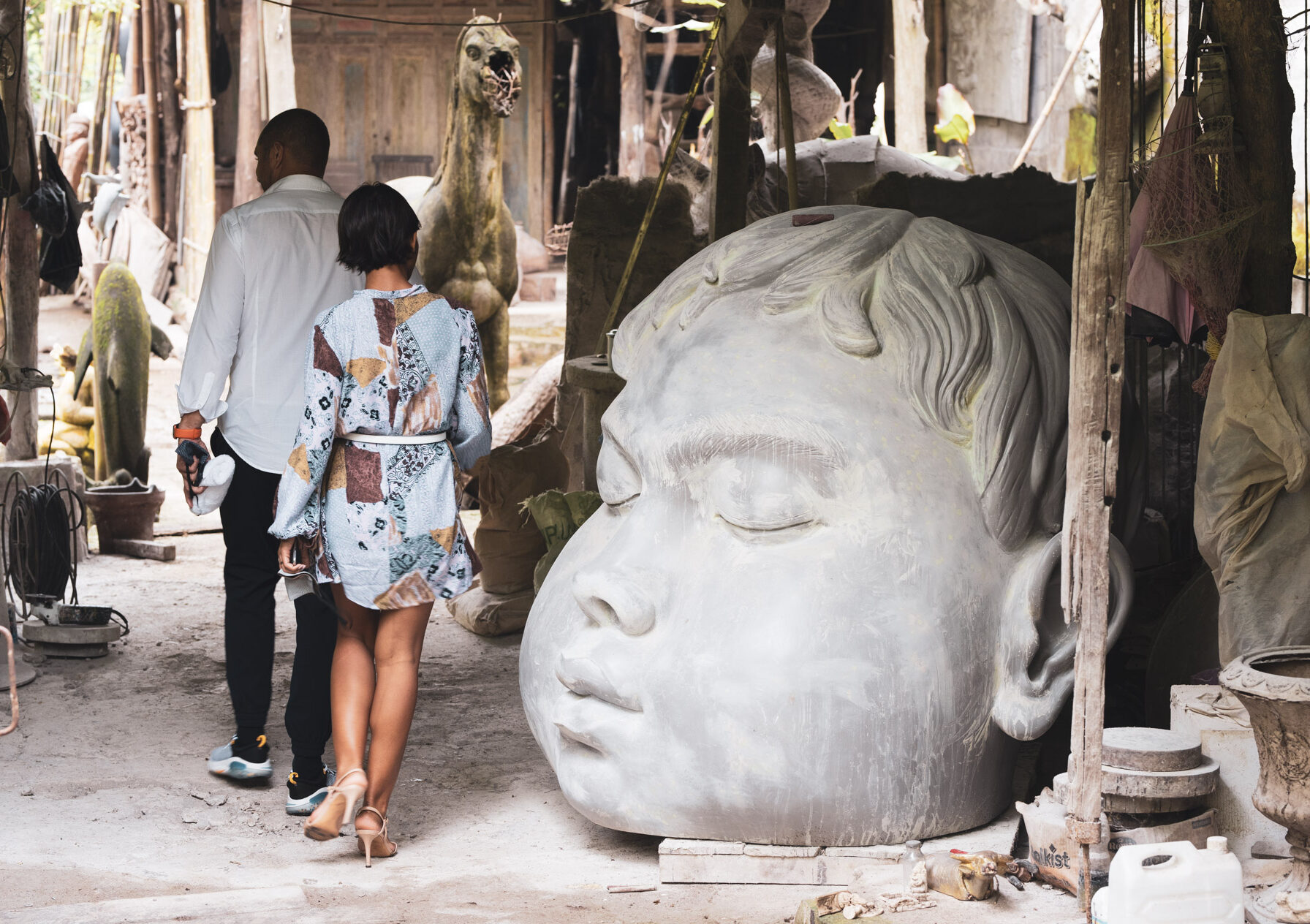 WORKING WITH CLAY
We love commissioning terra cotta pieces, this material is great for producing objects with rounded, organic shapes that work very well with vegetation as they provide rhythm and respiration to buildings structures.
SETTING-UP AND LOGISTICS
They are the most hidden parts of our projects. People marvel at the results of course, sometimes at the complex beauty of blueprints and the poesy of drawings but the organizing, setting-up and structuring phases are also the utmost importance. When moving fully grown living trees, gigantic pots and art works the logistic needed for their journey and installation is crucial and requires lots of experience.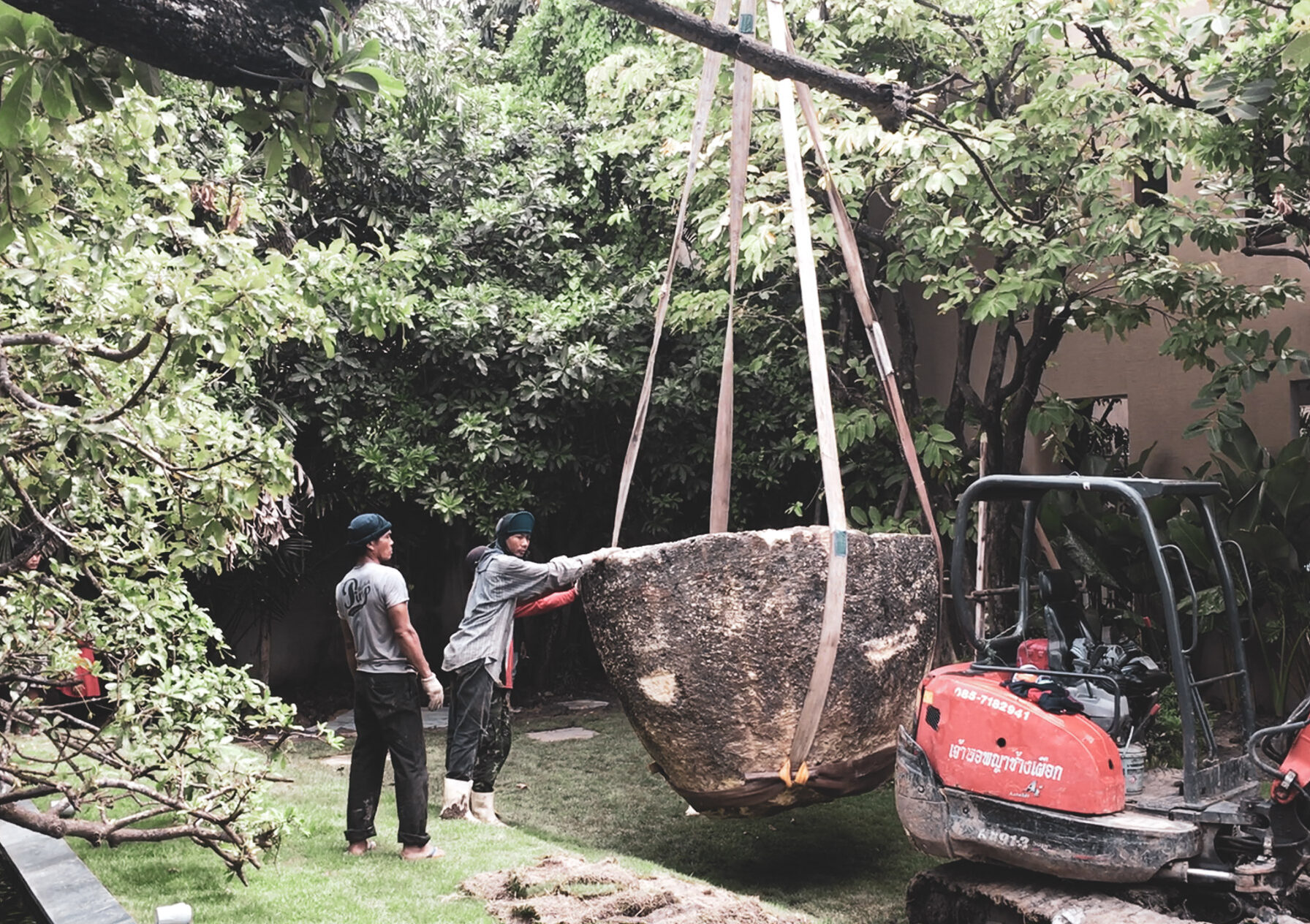 ACCOMPANYING CLIENTS TO NURSERIES
We like taking our clients out to nurseries and have them experience the actual plant volumes, sizes, interactions, proportions and textures for them to envision and appreciate the vegetal part of our study, it works better than the best mood boards, notes, pictures and drawings.